Commit to Yourself: 3 Ways to Stay On Track With Your New Habits, Even When You "Slip Up"
Sarah Mae (SMae) |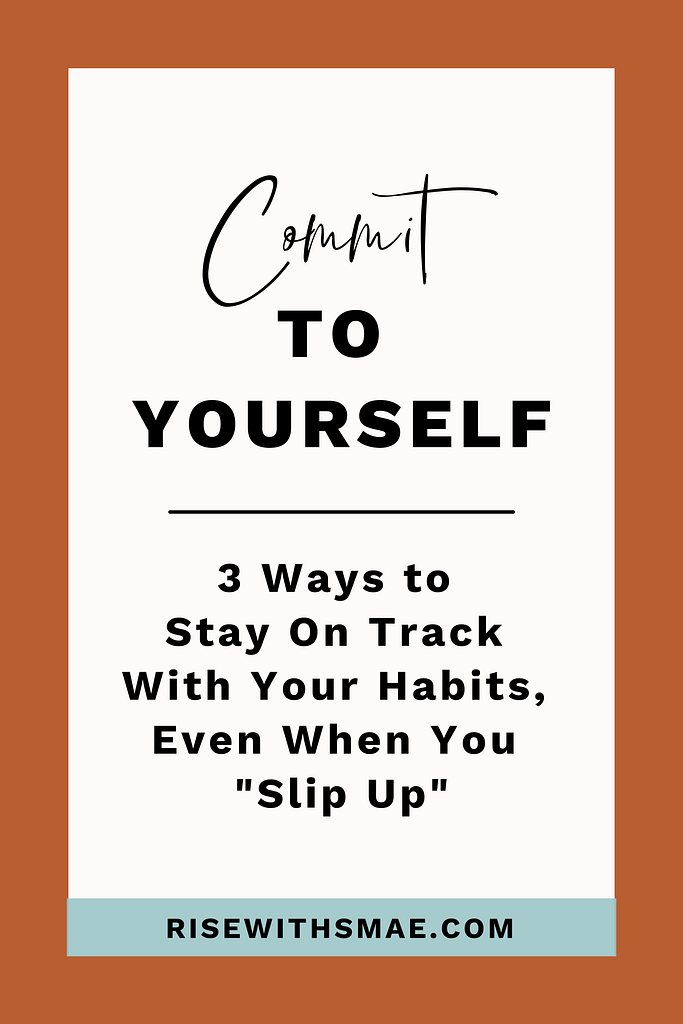 So, in an effort to commit to yourself, you started a new habit or routine. Maybe waking at 5am every day, not eating dairy, having 8 glasses of water, or doing some stretching before bed. Great! However, 10 days in you accidentally slept in, or you ate some cheese, only had 6 glasses, or passed out before stretching. Total failure.
Well, that's that then – right?
WRONG!
It is just SO unrealistic to think that you won't slip up here and there. Life can get crazy and it is GOING to happen.
So how do you actually follow through when you commit to yourself?
Here Are 3 Strategies To Help You Stay on Track With New Habits:
1) Plan Ahead For Success
I am always hearing friends and clients talk about lacking the motivation to do the things they know in their hearts they actually want to do.
What is going on here?
Our Bully Brains are wired to take the path of least resistance, so if you decide you'll just do things when you feel like it, those things are likely never going to happen.
If you're going to commit to yourself then you're going to have to plan it out and schedule it ahead of time, at least at the start.
You want to have a specific time and location decided, as well as knowing what you're going to need and how you're going to have it ready.
Once you've thought through when, where, and how you're going to do something, and have written it into your schedule, you're THREE TIMES as likely to stay on track.
Pro Tip: I also recommend grouping your new habit or routine with something else you're already doing. Want to meditate every day? Schedule it for when you get out of the shower. Want to go for a daily walk? Schedule it for when you turn off your computer for the day. Doing this will act as a trigger to remind you of what you've committed to.

2) Stay the Course – Even When You Slip Up
"I fell off the wagon and have no idea how to get back on track"
"I missed a day and now I need to start over"
I hear people say these things all the time and it boggles my mind. I honestly don't know what it is about humans that makes us think that when we make a mistake that's it – life over.
It's just so not true!!
According to the European Journal of Social Psychology and reiterated by Atomic Habits author, James Clear, slipping up and missing a day will have zero impact on your overall ability to stay on track.
The rule I like to live by is to never miss twice!
You figured out how to start, so you know exactly what to do – just start again tomorrow.
It is that simple.


3) How to Commit to Yourself with a Commitment Contract
This is something that I like to do when I make commitments to myself. There is just something about putting it in writing that makes it feel legit and official.
When I create a Commitment Contract I like to think about how it will help me GROW:
I then write out a contract answering these questions and sign it, you could even go a step further and have an accountability partner sign as your witness! This works because there is a HUGE amount of FREEDOM on the other side of a COMMITMENT

Conclusion
The truth is, we all slip up from time to time, but with some advanced planning, you'll be able to truly commit to yourself and FINALLY stay on track.
If you're having trouble figuring out how to take control of your life and make new healthy habits stick, I suggest downloading my Roadmap for Change. It will give you the foundations you need to get in place to make lasting real change happen.
__

If you like what you read, let's connect! You can subscribe to my newsletter, follow me on Instagram, or schedule a Free Clarity Call to see how we can work together. Happy Rising!